Ohio Land for Sale: Is the Market Still Ripe for Growth in 2022?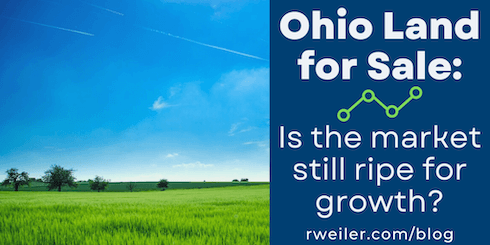 Is buying land a good investment in Ohio? Data through the first half of 2022 has been tallied on Ohio land for sale. All indicators show an extremely positive trend that will likely continue through the rest of 2022 and beyond. Reports have revealed a strong land market. And undeveloped land is increasingly attractive for investors after favorable reports from the Ohio REALTORS®.
As a whole, commercial real estate has seen great success in 2022, despite rising interest rates. While the forecast varies among sectors, the overall outlook for the year's second half remains positive. Our land brokers anticipate steady demand from land buyers, other CRE investors, land developers, and tenants in Ohio, Central Ohio, and Columbus, Ohio. See below why we feel Ohio land for sale market is still ripe for growth.

Surges in Residential and Commercial Real Estate, and Land Sales
Residential Real Estate Sales
The Ohio housing market has remained resilient over the past year and a half. The sector's inventory levels, sales volume, and average sales prices indicate that momentum will continue this year. Low mortgage rates have steadied, welcoming batches of new buyers eager to own a home in the market. Let's dive into what real estate agents can expect from the Buckeye State as we continue in 2022.
Figures from the Ohio REALTORS® Housing Market Report reveal that Ohio home sales reached historical levels in May 2022. Homes sales reached 14,210 in May 2022, a 1.8% increase from the May 2021 sales level of 13,955. The average home sales price across Ohio in May 2022 soared to $277,452, a 13% increase from the $245,485 price in May 2021. And in July 2022, the average sales price across the state of Ohio reached $273,954 an 8.4% increase from the same month last year. We've seen incredible sales numbers, houses selling faster than ever, and a low inventory of new homes. These factors entice professionals in the commercial real estate industry who are upbeat about purchasing land in Ohio.
Throughout the State of Ohio, 12 of the 15 markets Ohio REALTORS® is tracking saw an increase in the average price for July 2022, compared to a year ago. Additionally, four local markets saw a rise in sales activity compared to the same month last year.
The year-over-year chart below illustrates that the Ohio residential housing market continues to trend upward. How does the spike in housing prices affect Ohio land for sale? More housing developments are needed, leaving the door open for developers and investors to fill the gap.
Commercial Real Estate Sales
The surge in property buying isn't limited to residential real estate. While the industry took a beating during the first year of the pandemic, Commercial real estate is on track for a major rebound as 2022 continues. Commercial real estate has also seen an explosion in transactions since 2021 as Covid-19 fuels best-ever commercial real estate sales. After U.S. commercial property sales hit a 10-year low in 2020, the industry hit a 15-year high in 2021, reaching $809 billion (nearly doubling 2020's mark of $405.4 billion). Investors are buying everything from warehouses for sale and distribution centers to single-family rentals, apartment buildings, senior housing, coworking spaces, and other commercial property types.
Commercial Land Real Estate Sales
And, it doesn't end there! The REALTORS® Land Institute's 2021 Land Market Survey (an annual report released in April 2022) reveals a strong U.S. land market. Land sales grew by 6% in 2021, exceeding the sales growth of other commercial real estate sectors. Land sale prices also increased by 6%, the second-strongest sector when compared to other types of commercial real estate properties. Single-family rental properties grew by 7.5%, surpassing land sales. However, land sales prices increased at higher rates than the prices of industrial properties and multifamily apartments. On the other hand, the average prices for office buildings, hotels, and retail malls declined in 2021.
Of all the land markets, residential, industrial, and recreational land performed the best, with average sales increasing by 5% to 7% in 2021. Land sales for the office and retail markets increased by 3% in 2021. Overall, residential land sales accounted for 59% of the total land sales and 4% of all residential real estate sales in 2021.
What Does Low Inventory Mean for Ohio Land for Sale?
Residential Land for Sale
The demand is especially high for apartment rental units in Columbus, Ohio. The number of residential properties for sale remains historically low, driving up home prices. This will likely result in many renters wanting to purchase a home but feeling stuck in the renter pool. A large contributing factor to the rise in home prices is the low amount of inventory available. Low inventory and high demand are the signatures of a seller's market. Don't believe it's time to sell? Consider this: Central Ohio homes under contract in June 2021 proved to be the best for the month and a record high for any month, ever! A whopping 3,644 homes closed during that busy summer month, 15.6 percent higher than the same month in the previous year and 21.3 percent higher than the previous month.
As the housing shortage and supply chain issues pressured rent prices and home values, residential land for sale (and industrial land for sale) experienced a rise in demand. If you're thinking of buying a house, consider residential land.
Industrial Land for Sale
Not surprisingly, low inventory is not unique to homebuyers. Commercial real estate has been suffering from scarcity of space for years. It is increasingly difficult to secure commercial space. For the fifth quarter in a row (through Q1-2022), the Central Ohio industrial vacancy rate was at an all-time low. Industrial space for sale and lease has been in demand for years. However, due to the pandemic, the already-high demand for industrial space is skyrocketing, especially from logistics and e-commerce tenants. The Colliers 2022 Q1 Industrial Trends Report showed record-breaking data in Columbus, Ohio. The high number of leases drove vacancy rates down to 1.55 percent and asking rates up to $4.61 NNN; both rates have broken records in the Central Ohio industrial real estate market. New development projects also remain strong. As we entered the second quarter of 2022, 26 projects were underway, consisting of 13.7 million square feet.
Throughout the remainder of 2022, we anticipate steady demand from tenants, investors (including commercial land buyers), and developers throughout Ohio, Central Ohio, and Columbus. Given the strong performance of the Central Ohio industrial market, we've seen new leasing activity surge in 2022 and it's expected to continue setting records. Commercial developers are buying land for sale in Ohio and building projects at a historic pace to keep up with demand. Momentum in this true U.S. industrial hub shows no signs of slowing down.
Office & Retail Land for Sale
We've also seen a decrease in the vacancy rate for the office sector. In NAI Ohio Equities' 2022 Q1 Market Trends report, Columbus, Ohio saw a 9.3% drop in office space vacancies. Many businesses are returning to the office full-time or in a hybrid manner. For the remainder of 2022, we anticipate more growth in Columbus as the office space market rebounds and adapts to our post-pandemic world. The report showed slight increases in vacancies in Columbus's retail (3.9%) and multifamily (5.1%) sectors. However, the year-over-year rent prices still showed positive growth for retail (2.3%) and multifamily (8.8%), indicating landlords are not concerned about filling their commercial spaces for rent or lease. We're seeing that retail leasing recovered well in the Columbus market with low vacancy rates, satisfactory rent growth, and velocity returning to pre-pandemic levels. The only low point is new construction starts. Now is an opportune time to buy land in Ohio and develop commercial properties for sale or rent.
Multifamily Land for Sale
As for the multifamily sector, due to the low inventory of available houses and multifamily units, many more developed residential lots are needed in Ohio. Commercial real estate investors specializing in land development are taking advantage of this wise investment opportunity. Buying land for sale in Ohio to develop upon can be a profitable investment and help you build your commercial real estate portfolio. Creating new housing will also enable you to help address the Ohio housing supply shortage. At the 2022 REALTORS® Commercial Economic Issues and Trends Forum, NAR Chief Economist, Dr. Yun, asked local governments to ease land zoning regulations and ordinances. Reducing these burdens will decrease the economic risks that land buyers and land developers potentially encounter.
Columbus Chasing Other Midwestern Cities for Top Spot
Columbus, Ohio is one of the hottest real estate markets in the nation. According to Realtor.com's Hottest Housing Markets in September 2022, Columbus, Ohio takes the 3rd spot, up from the 11th in May. Realtor.com forecasts that house sales and listing prices will increase twice as quickly as the national rates.
The Columbus real estate statistics show a steadily growing and thriving real estate market that will continue performing well into the future. We've seen a steady year-over-year increase in Columbus house prices, mostly due to increasing construction, growing demand, and scarce inventory. Columbus real estate has appreciated 83.33 percent in the last decade, with an average annual home appreciation rate of 6.25 percent. This data positions Columbus in the top 20th percentile nationally for real estate appreciation. The region's affordability, attraction for tech businesses, high ratio of millennials, excellent schools, and job growth have led to the strong demand to buy homes in the Columbus area.
Columbus garnered some attention when it surpassed Indianapolis years ago as the 14th largest city in the nation. Columbus still holds this position with an estimated total population of 906,528 (per the latest U.S. Census Bureau estimation). The Census also estimated that Columbus is one of only six of the nation's 15 largest cities to increase in population during the first year of the pandemic. In comparison, the nation's 8 out of 10 largest cities saw a decrease in population during that timeframe. Additionally, with Amazon, Facebook, and Intel among the big tech companies moving to the Columbus region, the market seems to support the continuation of prices rising and inventory dwindling. For an investor or homebuyer contemplating buying commercial land for sale in Columbus, Ohio, the time has never been better than now.
Buying or Selling Comes Down to Fundamentals
One of the most significant contributing factors in Ohio's recent housing and commercial real estate sector growth is the affordability of living (cost of daily life and housing relative to wages and available money). According to an August 2021 study by the real estate concierge website, Clever, four cities in Ohio are ranked within the first 10 positions of a list of states where Millennials can afford to buy a home. Those cities are Dayton, Akron, Columbus, and Cincinnati.
The biggest question is: What does this all mean? With historically low borrowing rates still a reality, there is much room for housing prices to continue to increase. More people will call Ohio home as they discover the relatively lower cost and higher standard of living in Ohio. A land investor or land developer may consider establishing roots in the area by prospecting Ohio land for sale opportunities.
Additionally, as people continue to move to Ohio for the area's affordability, there will inevitably be an increased demand for commercially available services. In 2017, residents witnessed the opening of IKEA, the expansion of Spirit Airlines at Columbus International Airport, and the groundbreaking of Facebook's $600 million data center project. With business activity on the rise and a spike in population on the horizon, land for sale couldn't be a better investment.
Buying Land for Investment Purposes — Generating Land Investment Returns
Is buying land a good investment in Ohio? Typically, yes. There are many benefits to buying land for sale in Ohio. When people buy land for investment purposes, it's often raw land for sale. Raw land is an untouched parcel of land that has not been developed. Investing in land, especially raw land for sale, can be a lucrative investment. Raw land ownership is often considered a "safe" investment for land buyers and provides flexibility to develop or resell for a profit. In addition, buying raw land for sale can help commercial real estate investors diversify their portfolios.
Buying raw land for sale is a long-term, tangible asset that doesn't depreciate and requires minimal upkeep. Raw land is a limited resource with increasingly less competition. The land market generally has less competition than other real estate markets such as residential and commercial properties for sale. Raw land is an appreciating asset due to the basic principle of supply and demand; there is a limited supply of available land for sale and increasing demand from land buyers. As demand for raw land increases, the value will naturally increase.
However, there are no guarantees on future profits in raw land investment. The best approach to raw land investing is to find cheap land for sale in Ohio with a lot of potential for future land buyers. It takes a lot of effort and due diligence, but it is possible. A qualified land broker can help you find the ideal parcel of land more quickly. One of the most important considerations is how to invest in land and make money.
Buying Land for Sale: How to Invest in Land and Make Money
There are many ways that land buyers can generate returns on their land investment. Below are some of these options:
Buy and Hold: Buy land for sale at a low price, then hold until it appreciates and you can make a sizable profit.
Lease Your Land: While buying land for sale is typically more expensive and requires more upfront costs than other investments, land has proven to generate higher returns over time than stocks or bonds. You can lease land to farmers or hunters. Depending on the parcel size, landowners can also divide their land into multiple parcels for separate leases. Landowners' payments from farming leases can help cover management expenses (e.g., taxes, insurance) while making a profit.
Offer a Land Contract: What is a land contract? A land contract is a legal agreement used to purchase real estate through owner financing. A land contract is similar to a mortgage but instead of borrowing funds from a bank or lender, the buyer borrows from the real estate owner. The buyer typically pays an amount up front, then continues to make payments until the full amount is paid off. Land contracts can be useful for buying raw land for sale, a house, a commercial property, or other real property. Land contracts often come with higher interest rates than traditional lenders, so it's a great way for land sellers to earn interest.
Land for Sale in Ohio: Invest, Develop, and Hold for the Long-Term
Based on all the information we've reviewed, it is clear that now is a great time to invest in land in Ohio. Buying land in Ohio is the best choice for those looking for a long-term investment vehicle. If you are an investor considering solid investment choices, the most common advice is to get in as early as possible and hold for the foreseeable future. You may never hit the nail on the head regarding market entry, but take advantage of an opportunity when you see one available. The timing couldn't be better for those lucky enough to find a great deal on land for sale in Ohio.
Ohio Land Investors: Short-Term Buy and Sell
For Ohio land buyers who are not keen on long-term investments and prefer to make money quickly and exit the market, now is the time to act. We've seen profits increase, especially over the last couple of years. And Ohio is consistently listed as one of the top real estate markets in the country. While most economists and pundits say this trend is likely to continue in the next several years, it won't last forever. At some point, the market will plateau and the opportunity for significant short-term gains from your homes or land will disappear. If you are a transient investor, the longer you wait, the lower your return on investment. Year after year, we've seen a steady increase in the average cost per acre of land for sale in Ohio. What is the average cost of land in Ohio? We detail the cost information, below. If you'd like to take advantage of this opportunity but are unsure how to buy land in Ohio, commercial real estate experts and licensed land brokers can help you.
What Is the Average Cost Per Acre of Land in Ohio (2022)?
So, how much does an acre of land cost in Ohio? In 2022, the average cost per acre of land in Ohio is $9,800. The price has soared with a 20.3% increase from the $8,150 price a year prior in 2021 — a 14.8% increase from the $7,100 price in 2020. This data is from the July 2022 Farmers National Company Agent Survey which revealed the average sale prices per acre of land, year over year, from June 2020 through June 2022.
As you can see, the value has significantly increased annually, making land buying a profitable investment. Keep in mind that those are the average prices. On the highest end, top-quality land in Ohio recently sold for as much as $16,000 to $17,000 per acre. As the cost of land for sale in Ohio increases, the average return on land investment increases. The incredible land values and sales numbers of residential and commercial properties, coupled with a low inventory of homes, warehouses, multifamily properties, office space, and retail space, entice investors to buy Ohio land for sale.
Is Buying Land a Good Investment in 2022?
Investing in land is one of the most profitable investment strategies in 2022. As noted above, the demand for land as an investment has increased greatly over the last few years. This growth in land sales is because buying land for sale is often considered a safe bet.
Real property, a parcel of land, and any structure or other items that may be permanently affixed to the land can be a wise investment opportunity. Unlike other real estate investments, buying land for sale typically offers stability, a wide range of uses, and an appreciation in value. Land can be especially profitable if it's in a prime location and contains quality topography and soils. However, the type of land investment and investor's intended land use can greatly affect profitability.
Types of Land Buyers:
Land buyers looking for a long-term investment of land to build upon, enjoy, and hold
Land investors looking to grow their short- or long-term net worth by leasing land or flipping land (land developers often purchase land for this reason)
Land investors who buy a parcel of land to divide into smaller tracts of land to resell each tract; selling smaller tracts of land increases the buyer pool, allowing for more ROI
Types of Land Investments:
Residential development land
Commercial development land
Recreational land (including hunting land)
Farmland for crops (including vegetable farmland and other row crop land)
Farmland to raise livestock
Mineral production land
Hunting land
Timberland
Vineyards
Orchards
Ideally Buy Low, Sell High
As cities across Ohio continue to flourish, raw land for sale appears to be one of the most promising real estate investment avenues. You can make a nice profit return if you buy land at a lower price during a market low and then sell it when the price drastically increases. Another option is renting it out as one or multiple lots to increase your revenue stream. You can also develop or build on your raw land to increase your property's value.
Is Buying Land a Good Investment in Ohio?
Real estate costs continue to soar, properties remain in short supply, and the stock market remains volatile. These factors tell us that buying land in Ohio is a good investment in 2022. But you must learn how to invest in land and make money from it. Knowing about the supply and demand of land is a good place to start.
The demand for residential and commercial land for sale (especially industrial land) is highest. These types of land can be used to develop single-family homes, new multifamily buildings, or new industrial, retail, and office buildings. On the other hand, agricultural land (irrigated and non-irrigated farmland or cropland) and timberland are two of the slowest-growing land real estate sectors.
Central Ohio's Trusted Commercial Real Estate Firm Since 1938
With nearly 85 years in the Central Ohio commercial real estate market, The Robert Weiler Company deeply understands the local market space. And our commercial real estate brokerage expertise goes far beyond farmland and raw land for sale; we also work with office space, retail space, industrial / warehouse space, multifamily properties, hospitality, and entertainment and sporting venues. We approach each client as a partnership that goes far beyond a broker/buyer relationship. Whether you are looking for a long-term development option or a short-term investment vehicle, we know the properties, we have the experts, and our service and dedication are unrivaled. Contact one of our land brokers today at 614-221-4286; find out why buying or selling Ohio land for sale through The Robert Weiler Company is a smart decision for you.
Resources
https://www.ohiorealtors.org/blog/1601/ohio-housing-market-posts-gains-in-sales-activity-average-price-in-2021/
https://www.columbusrealtors.com/news/2021/07/22/housing-reports/central-ohio-housing-report-june-2021/
https://www.columbusrealtors.com/news/2022/06/21/1homepage/central-ohio-housing-report-may-2022/
https://www.ohiorealtors.org/home-sales-news-release/
https://www.ohiorealtors.org/upl/media/may22hs.pdf
https://www.columbusrealtors.com/news/2021/07/22/housing-reports/central-ohio-housing-report-june-2021/
https://www.realtor.com/research/2022-national-housing-forecast/
https://www.nar.realtor/research-and-statistics/research-reports/realtors-land-market-survey
https://cdn.nar.realtor/sites/default/files/documents/2021-realtors-land-market-survey-04-21-2022.pdf
https://www.colliers.com/en/research/columbus/2022-q1-industrial-trends-columbus-colliers
https://www.realtor.com/research/hottest-zip-codes-2022/
https://ohioline.osu.edu/factsheet/cdfs-4112
https://www.farmersnational.com/Landowners/Current_Landowner_News/Landowner_News/
Let Us Know Your Thoughts on Ohio Land for Sale!
What are your thoughts on the current market and demand to buy Ohio land for sale? Did you find any data point particularly interesting? Let us know on our social media channels, linked below.