7 Best Books for Rental Property Managers [in 2023]
Education is essential to succeeding whether you are just starting out as a rental property manager or an experienced property manager looking to refine your strategy. New and aspiring rental property managers want a comprehensive introduction to the rental property business. They want to understand what's involved in the day-to-day operations and learn the best practices, tips, and tools from experienced property managers. And seasoned pros often seek out changes made within the property management industry. They want to learn about the latest technology, laws, tax benefits, and regulations. Seasoned pros might even learn tips from their peers that could help streamline their processes and manage more effectively.
One of the most effective ways to expand your knowledge and learn new strategies is to read books authored by experts in your field. But you must select books that are newly published; this is especially critical when you're relying on the books for legal and tax-related information or forms.
Below, we recommend seven of the latest and best books for rental property managers to learn valuable insight into the industry, help you get inspired, and drive long-term success for your rental income property business. The books we've chosen are written by some of the best rental property managers, commercial real estate investors, owners of successful business empires, and legal professionals. These resources will educate you on rental property management best practices and help you replicate the successes of other rental property managers. Some books even provide downloadable property lease agreements, forms, and worksheets!

What Should a Good Rental Property Management Book Include?
There is no easy way to quickly identify the best property management books. It really depends on your current skill set, process, the size of your apartment building, team, and real estate portfolio. A good rental property management book will typically cover a wide range of topics related to the tasks of rental property managers and overall strategies. These topics may include learning how to:
improve the curb appeal of your property;
advertise your listing;
find and increase the quality of tenants;
create an iron-clad lease agreement;
price your rental spaces for lease;
properly manage finances;
follow the latest tax rules, regulations, and laws;
save with tax benefits;
handle difficult tenants;
efficiently upkeep your rental property;
streamline your processes and operations;
improve your customer service;
and deepen your knowledge of property management.
However, some property management books will focus wholly on the tax, regulations, and legal aspects of renting spaces.
While not all of the books on our list go into great detail on each of these topics, they are all easy to read and packed with great insight and practical advice. Happy reading!
And now, without further ado, here are:
7 of the Best Books for Rental Property Managers in 2023

Property Management Kit For Dummies (4th Edition)
Author: Robert S. Griswold
The Property Management Kit For Dummies is a comprehensive book containing all the information and resources new rental property managers need to manage their first property successfully. It's a vital introduction to rental property management. In addition to the 480-page book, you'll also receive online bonus materials. Readers will find this book practical and helpful regardless of the multifamily property type (e.g., single-family homes, duplexes, small apartment buildings, large apartment buildings, multi-building apartment complexes). This book will help you determine whether rental property management is right for you. You'll also learn the requirements to start as a rental property manager and achieve success as you build your residential rental property portfolio.
Some of the tips you'll find include marketing for available rental spaces, increasing curb appeal, and updating the apartment building and rental space for lease to include modern features and amenities sought by today's renters. Also detailed in the book are effective strategies for finding responsible tenants, determining rental rates, creating a solid lease agreement, moving your tenants in, and collecting rent. You'll understand multifamily property tax and insurance requirements and diligent financial bookkeeping. This book will also guide you through the potential issues you'll encounter as a rental property manager, such as dealing with tenants who pay rent late, evicting tenants, handling emotional support animals despite your pet policy, building maintenance concerns, and emergency maintenance issues. Plus, this latest edition reflects the current apartment rental property boom, the latest property management technologies, changes to laws, and the most recent Fair Housing updates to help you avoid legal issues. Become one of your area's best rental property managers with this complete resource-filled package.
Pages: 480
Price: $24.49
Release Date: December 2, 2021
Get on Amazon
Every Landlord's Guide to Managing Property: Best Practices, From Move-In to Move-Out (4th Edition)
Author: Michael Boyer, Attorney
What better way to learn how to be a successful property manager than from the author, who is a landlord, college professor, and attorney, and has served on several condominium association boards. This property management book is an in-depth guide for do-it-yourself property managers and landlords who manage or own small rental properties. Every Landlord's Guide to Managing Property: Best Practices, From Move-In to Move-Out (4th Edition) offers sound advice, strategies, and tips to manage rental properties effectively, efficiently, and successfully.
Discover the key components of attaining rental property success. Understand how to attract quality tenants, retain tenants, and handle vacancies. Learn how to maintain detailed bookkeeping records. Find out how to deal with bad tenants and avoid extra expenses with turnover. Become proficient in finding and hiring the right contractors. Soak up some new information to help you be the best landlord and rental property manager you can be (especially if you have a day job).
The fourth edition of this property management book is fully updated to include the latest matters affecting landlords. Some of these matters include updates to tax laws, new offline and online tools for managing rental properties, and tips on making rental property management a side hustle.
Pages: 480
Price: $22.86
Release Date: June 13, 2023
See on Amazon
Landlording on AutoPilot: A Simple, No-Brainer System for Higher Profits, Less Work and More Fun (Do It All from Your Smartphone or Tablet!) (2nd Edition)
Author: Mike Butler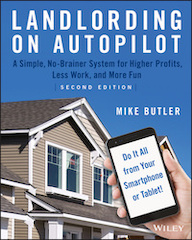 This book is a bit of an oldie, but it is a goodie! Mike Butler is a real estate investor, licensed real estate broker, author of real estate investment books, and a speaker at real estate investing seminars across the U.S. But he didn't always wear all of these hats. Discover how Butler managed 75 rental income properties by himself while working as a full-time police detective before he hired a part-time property management team to help! Butler developed a proven, effective method for managing rental properties without the hassle and in your spare time: Landlording on Autopilot.
Butler will teach you the highly efficient techniques, systems, and resources that helped him create his expansive rental property business. And keep in mind that Butler runs his empire from his smartphone, tablet, and laptop. Whether you own a large apartment building or apartment complexes, small apartment buildings, single-family homes, penthouse properties, or Section 8 housing, Butler's system can help you become one of the happiest and most successful rental property managers or landlords in town.
You'll learn how to screen and find trustworthy tenants; increase your cash flow with automation; take advantage of tax breaks; know how to comply with regulations and legal matters; find profitable rental investment properties; deal with bad tenants quickly, cost-effectively, and safely; market your properties on a budget; and consistently bring in more than 100% return on the rental payments. Includes a complete set of downloadable forms for free so you can start Landlording On AutoPilot today. Mike Butler's Landlording on Autopilot system sounds like a win-win!
Pages: 288
Price: $16.33
Release Date: April 3, 2018
Get on Amazon
The Book on Managing Rental Properties: A Proven System for Finding, Screening, and Managing Tenants with Fewer Headaches and Maximum Profits (1st Edition)
Authors: Brandon Turner, Heather Turner
While this rental property management book is quite older, we'd be remiss if we didn't include this gem on our list! Despite its time on the shelf, the advice is still relevant today. Most other beginner books focus on all aspects of rental property management but this book hones in on all things tenants. From BiggerPockets, this book is part of their rental kit series and is from the Turners, a husband-and-wife team. Learn comprehensive tactics to effectively and efficiently manage tenants in your rental properties. As expert rental property managers, this dynamic duo strives for more freedom, maximized profits, less drama, and more fun. Now, that sounds like a good place to be! They provide insight into their own rental property management company, as well as case studies, and personal stories that will make you view property management differently.
The Book on Managing Rental Properties is a fantastic, comprehensive book for seasoned rental property managers or those new to this field. There is something for everyone to learn. The Turners cover topics in this book such as cost-effective strategies to find good tenants; which tenants to avoid; pertinent rental lease provisions; practical tips to ensure a smooth relationship with tenants; stress-free process for better bookkeeping and tax records; and much more!
Pages: 377
Price: $17.98
Release Date: October 28, 2015
Get on Amazon
Landlord's Legal Kit For Dummies (2nd Edition)
Authors: Robert S. Griswold, Laurence Harmon
Many rental property management books help landlords and property managers find tenants, collect rent, maintain their property, and build their commercial real estate portfolios. However, this book hones in on the legal aspect of owning and managing residential rental properties to ensure you comply with federal, state, and local real estate laws.
Learning the laws and legalities associated with renting property can be daunting. The Landlord's Legal Kit For Dummies is a comprehensive guide that provides all the legal resources (including contracts, forms, and worksheets) that landlords and rental property managers need to avoid legal ramifications. This book helps you cover your legal bases! Learn to protect your assets and insure your new rental property; understand the legal aspects of advertising your available space for rent; comprehend housing laws and your rights as a landlord as well as the rights of your tenants; compose a solid rental or lease agreement with drafts of all necessary legal forms; get ideas on what to include in a security deposit policy; find out about leases, including sublets, how to legally terminate a lease, and how to handle a breach of a lease; learn the current tax laws with a breakdown of tax rules without the legal jargon; keep proper financial records with helpful worksheets; and so much more!
Pages: 448
Price: $19.52
Release Date: September 14, 2022
Get on Amazon
Every Landlord's Legal Guide (16th Edition)
Author: Marcia Stewart
This is a staple book that all landlords and rental property managers in the U.S. should own! With advice, legal forms, letters, and up-to-date state-specific laws, Every Landlord's Legal Guide is a complete, practical, and easy-to-understand rental law book from the trusted experts at Nolo. Nolo is the owner of one of the largest online libraries of digestible legal information. Their vast network of 50 websites includes Nolo.com, one of the leading legal websites. Nolo's mission is to help small business owners find answers to their questions about business and law.
You'll enjoy advice, tips, and forms related to all aspects of residential renting, from screening tenants, and preparing leases and property rental agreements, to general rental rules, security deposits, how to avoid discrimination, hiring off-site or on-site rental property managers, move-ins, sublets, assignments, and continents, landlord's duties to repair and maintain the property, liability, tenant's rights and landlord's rights, and how to handle tenant issues. You'll also find a section on legal resources to help you better understand certain aspects of rental law, find a lawyer, and know what fees to expect.
Pages: 544
Price: $29.55
Release Date: May 31, 2022
Get on Amazon
Every Landlord's Tax Deduction Guide (18th Edition)
Author: Stephen Fishman J.D.
Investing in rental real estate provides much more tax benefits than most other income-producing assets. When you own a rental property, knowing which expenses you can deduct can make a difference between greatly profiting and ending up in the red. Maximize the return on your rental property investment with Every Landlord's Tax Deduction Guide — the only book that centers around IRS rules and rental property tax deductions for landlords and rental property managers.
This is another book from Nolo. And they've stepped it up again with the latest edition of this rental property tax deduction guide! Gain insight on maintaining proper bookkeeping and tax records. See how to fill out a Schedule E tax form for your rental property. Find out how to deduct expenses for maintenance, losses, home office, car, travel, meals, and more. Learn about tax classifications, how to report rental income, and factor depreciation. This edition was revised due to changes resulting from the coronavirus pandemic. The update also includes the latest information about tax law updates, such as the rules for claiming net operating loss (NOL) deductions and refunds.
Pages: 464
Price: $52.50
Release Date: January 25, 2022
Get on Amazon
Are there any other books that you highly recommend? We would love to know! Don't hesitate to get in touch with us to submit your recommendations.
Become One of the Best Rental Property Managers in Your Area by Staying Informed
Stay ahead of your competition by staying informed. Mastering property management can take years to achieve. But being a successful rental property manager means always learning tips and strategies, the newest technologies, industry standards, and the latest information about taxes and laws. Many real estate experts advise in various mediums, including books, podcasts, vlogs, industry-related blogs, and social media groups. Seek out experts in the rental property management field to stay current on various topics critical to rental property managers. You may learn quick tips, tricks, and tactics in certain areas of property management by listening to podcasts and following blogs, vlogs, and social media groups; however, reading books for property managers is the best way to learn. A book compiles all the pertinent information you seek into one comprehensive guide.
Be sure to add our CRE blog to your library as another educational resource. And check out our list of CRE resources!
Need Help Managing Your Rental Income Properties?
You've invested in rental income property for sale but it needs to be managed. If you have the time and energy, you can handle the property management responsibilities alone (for small apartment buildings). You can hire a licensed property manager (off-site or on-site property manager) to help take some tasks off your plate. Or you can hire a professional property management firm to manage all aspects and responsibilities. Whether you succeed in your rental properties is not solely reliant on your investment strategy and property selection. The key aspects are structuring your rental business operations, procedures, and systems.
When you invest in rental income properties for sale, time becomes an especially limited resource. We have extensive experience in real estate management and offer a wide range of commercial property management services. Our team provides off-site and on-site property management services and can help you as much as needed. By partnering with The Robert Weiler Company, you can rely on a premiere team of licensed property managers to handle all day-to-day tasks. Each property has unique needs that constantly shift. Our team adapts while ensuring a fully maintained property, satisfied tenants, and maximum profits. This will free up your time to focus on your business, grow your portfolio, expand your knowledge, and enjoy passive income from real estate investing.
Contact our licensed rental property managers today at 614-221-4286. See how you can leverage our expertise to help you earn greater passive income on your rental property.