20 Awesomely Functional Gifts for Real Estate Investors
'Tis the season to be stumped! Coming up with ideas for the perfect gifts to surprise that special person each year can be unnerving. And, if you have a real estate investor in your life, the gift-finding pursuit can be quite a challenge. Investors are often adventurous, organized, go-getters, and entrepreneurial. Give the mundane gift basket to your favorite corner shop, and instead, find gifts best suited for property investors.
Luckily, your serendipitous muses at The Robert Weiler Company are here to offer some awesome, functional, and fun gift ideas for your favorite real estate investor – whether they're into residential homes, commercial buildings, or anything in between!
GIFTS FOR RESIDENTIAL PROPERTY INVESTORS:
Looking for a great gift for house-flippers or buyers taking advantage of a housing market downswing? Here are some fantastic ideas for residential real estate investors:
Average cost: $15 and up
While gift cards tend to carry a reputation for being "quick" gifts, to a real estate investor, they are a home run.
If your colleague, family member, or friend is buying and flipping property, they're probably spending more on home improvements than most people spend on Black Friday. You can find almost anything on Amazon, from cabinets, tiles, and wallpaper to power tools, smoke detectors, and so much more. You'll appear in the know if you suggest using that gift card on Amazon's Home & Business Services section of the site; this department is a one-stop shop for sourcing contractors whether it's for assembly, cleaning, home improvement, yard and outdoor work, or even smart home services.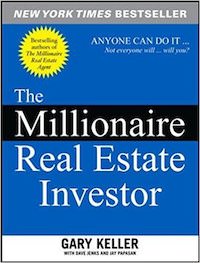 Average cost: $15 (via Amazon.com)
This season, consider skipping over the latest Gone Girl-inspired thriller for a read that your recipient will find both interesting and helpful.
Holding a 4.4 out of a 5-star rating on Amazon, The Millionaire Real Estate Investor is a practical gift that is also practical for your wallet. Touted by fans as a steal rather than a bargain, this book offers essential advice for real estate investors at any stage of the game. It also includes firsthand experiences from successful REIs in a style easy for readers to digest and apply.
Average cost: $200 (via Amazon.com)
The Kevo is a simple convenience at your fingertips disguised as a typical door lock. Bluetooth capability connects the smart lock to the user's phone and offers a "Touch-to-Open" feature, eliminating the need for an actual key. Not to worry, though. A key can be used in the event of a dead battery or a misplaced phone.
Kwikset's innovative "eKeys" are perfect for the real estate investor who may have contractors and other providers needing to access a property for home improvements. When needed, the investor can send the provider an "eKey" through the app to provide simple and secure access to the home. No more searching for keys or waiting around!
GIFTS FOR COMMERCIAL REAL ESTATE INVESTORS:
Is your sister-in-law considered a real estate mogul in your community? Does your friend, Larry, invest in large office buildings in town? Give them a present that is not only useful but may even impact their bottom line.
Average cost: From $13/month for individuals and from $15/month for businesses
In the commercial real estate investment world, sometimes a task as simple as getting a signature can be a real speed bump. With the Adobe Sign platform, CRE investors can go fully electronic by offering and receiving digital signatures. Whether a contract is needed for commercial land for sale, a commercial building for sale, retail space for sale, rental properties for sale, or any other type of commercial property for sale, Adobe Sign can help execute professional CRE contracts.
With a simple swipe and tap, the commercial real estate investor can seamlessly execute transactions without pausing and waiting for a scan or fax. The platform is secure and usable on any device, and the digital signatures are legally binding and enforceable.
Average cost: $32.50/month and up*
BiggerPockets is described as the Pinterest of the commercial real estate investment world, without the "pin" format. It's a complete social network, offering countless tips, interactive tools, and helpful videos. It also contains a members-only marketplace encouraging networking and relationship-building among the industry's top real estate buyers, sellers, and financiers. With core values that begin with "family over everything," the recipient of this gift will feel both grateful and excited.
*While there is a free version, the Pro Monthly ($39/month) and Pro Annual ($32.50/month) versions offer vital extras. Some of those perks are an increased volume of property analysis and rent estimator reports, and access to exclusive videos, articles, and webinar replays. The Pro Annual also includes unlimited downloads of lease agreement packages for all 50 states and access to virtual Real Estate Rookie bootcamps.
Average cost: $759
Drone usage has skyrocketed in both the industrial real estate and personal arenas ever since the need for an FAA pilot's license was deemed unnecessary. (The government even uses drones in property reassessments!) Fortunately, obtaining unique aerial footage on a property is no longer a substantial financial and time-consuming burden for commercial real estate investors.
While the cost can be a significant expense, the DJI Mini 4 Pro is a leader in the drone industry. So, get your friends, family, or colleagues together and bring in several people to pool your resources. Its 34-minute flight time and advanced navigation and imagery features are sure to creatively raise the bar (and ROI) for any real estate investor who utilizes it.
Average cost: From $80/month and up
LinkedIn Sales Navigator is a powerful tool for commercial real estate investors to network, start meaningful conversations, find investment opportunities, and target commercial buyers. LinkedIn Sales Insights comes bundled in this sales solutions package. With these insights, commercial property investors can access LinkedIn data and insights, giving the clarity and sales tools needed for smarter real estate sales planning.
GIFTS FOR PROPERTY INVESTORS OF ANY TYPE:
No matter the size of the property investment, certain items are necessities. Some objects are simply "nice to have." The Robert Weiler Company team surveyed our brokers, developers, and appraisers to capture these cool, handy gift ideas for any real estate investor.
Average cost: $20
Real estate investors tend to have jam-packed days that often require local or long-distance traveling. To keep things fresh while on the move, a convenience kit filled with daily necessities can prove to be the perfect gift.
The women's prepackaged travel kit from Amazon packs 13 TSA-approved toiletries into a reusable bag. Some items included are shampoo, deodorant, toothpaste, and facial wipes.
And the men's prepackaged travel kit from Amazon includes 20 pieces of TSA-compliant toiletries and accessories packed in a zip-top travel bag. Real estate investors will have all the grooming and oral care essentials ready for their next meeting. Some items included are shaving cream, razors, soap, powder, toothpaste, deodorant, and a comb.
For a more DIY approach, gift-givers can create their own convenience kits, personalizing the items to the recipient's liking! For example, you can buy a toiletry bag and fill it with facial wipes, antibacterial gel, a nail file, a nail clipper, a single-use toothbrush/toothpaste pack, flossers, and travel-sized mouthwash. To make your DIY gift even more special, opt for a personalized toiletry bag or tote bag (see gift idea #9, below) and fill it up with toiletries.
Average cost: From $14 and up
Anyone could always find a use for a tote bag — especially if it's personalized with our name! Real estate investors can use a tote bag to pack their lunch, toiletries, paperwork, supplies, travel supplies, and more! Whether you're looking for an everyday tote bag, toiletry bag, travel bag, or beach bag, Personalization Mall's wide selection offers many bag styles and personalization options.
Average cost: $50
Perfect for the real estate investor who likes to wear his heart (or his data) on his sleeve, these trendy cufflinks pack a serious 32GB punch. Offered in gunmetal, silver, or gold tone, and in several styles, these cufflinks are simplistic yet innovative. (Note: cost may vary depending on color, style, and capacity.)
One cufflink holds 32GB of storage space (while the other cufflink matches for show), making contracts, reports, and other data easily accessible and never forgotten; it also eliminates the need to carry a briefcase! These cufflinks are a win-win, in our opinion.
Average cost: $60 and up
While nothing will emotionally beat the inscribed "#1 Dad/Mom" pen gifted to the real estate investor from their child's holiday school store, the time has come to retire that pen to a desk drawer.
Cross pens provide an unprecedented style for any polished professional. You will have no problem finding the right pen with three styles (ballpoint, rollerball, or fountain). (Select "engravable" under the "personalization" sub-menu to view the customizable pens.) When striking new deals, make sure your real estate magnate has a professional pen to make a bold statement.
Average cost: $60 and up, depending on make and model
Like the drone/camera mentioned above, this gift can come with a hefty price tag. While there are some affordable options like the Fire Tablet (with a starting price of approximately $60), the Apple Watch starts at $249 (new); the iPad at $399 (new); and Microsoft Surface Pro at $1099.
However, for real estate investors moving from place to place, toting around a book, a newspaper, a bunch of files, and a laptop isn't nearly as convenient as slipping a one-pound tablet into a purse or briefcase. And, with a smartwatch, users don't need to be near their phones to read and respond to calls and texts. Whichever device you choose, the recipient of this gift can take calls, snap quick photos, collect signatures, and read the next digital chapter of The Millionaire Real Estate Investor, all while on the go.
13.) Portable Charger Power Bank
Average cost: $20 to $50
Real estate investors rely on their phones for everything, and they use tablets and laptops almost as much. Help ensure the investor in your life doesn't run out of batteries with a pocket power bank. The INIU USB-C Portable Charger can charge most phones or earbuds multiple times; it's top-rated on Amazon and only $18! And if you have about 2.5 times the budget, we recommend the Anker PowerCore Essential 20,000mAh Power Bank with PowerIQ technology for $49 on Amazon.

14.) Car Phone Holder / Mount / Charger
Average cost: $25 to $30
Car-mounted phone holders are a safe, easy way to access your phone's pertinent systems, such as GPS and phone calls. This is especially useful for professionals who spend much time in their vehicles, such as real estate investors.
TOPGO Cup Holder Phone Holder has an adjustable gooseneck and sits firmly in your vehicle's cup holder. ($25)
ZeeHoo Wireless Car Charger is an auto-clamping car phone mount that's adjustable and sits firmly on your vehicle's dashboard or attached to the air vent. This holder also wirelessly charges your phone when mounted! ($30)
Average cost: $14 and up
We can see why this is the most popular planner on the market right now! Panda Planner uses a scientific approach to increasing your productivity and happiness. It's a day planner, goal setter, life organizer, task manager, scheduler, journal, and productivity booster, all in one! The Panda Venture Planner was specifically designed for entrepreneurs and would make for a perfect gift for property investors ($14). And the Panda Planner Pro is a good all-around planner, suitable for anyone ($34).
Average cost: $20 to $25 (the prices vary, depending on the bottle size)
Commercial real estate investors must spend a lot of time on the road. Encourage the property investor in your life to stay hydrated with this Iron Flask sports water bottle. With a 4.8 out of 5-star rating among a whopping 132k reviews on Amazon, it's clear why this is the number-one best-selling water bottle! The BPA-free, non-toxic, leak-proof, double-walled, vacuum-insulated stainless steel thermos keeps liquids cold for up to 24 hours or hot for up to 12 hours. The water bottle comes in multiple sizes and includes three lids: a carabiner straw lid with 2 straws, a flip lid, and a stainless steel lid.
Average cost: From $39 for 3 months or $70/year
Help the residential or commercial investors in your life relieve their stress, focus better, and find more happiness with a subscription to Headspace. We know from personal experience that life as a commercial property investor can sometimes be stressful. A lot can go wrong with a commercial real estate investment. That's why this is one of our favorite gifts for property investors, especially our CRE investment colleagues. In addition to hundreds of easy-to-listen meditations, Headspace also offers focus music, sleep sounds, mood-boosting workouts, and yoga!
Average cost: $21
MindPanda's empowering gel stress balls can help you practice mindfulness on the go, anytime, anywhere. Relieve stress and anxiety while also building hand muscles and a stronger grip. But these aren't your ordinary stress balls; each of the three balls features an affirmation and a matching aromatherapy scent. Remind the real estate investor in your life to breathe and be present before their next meeting!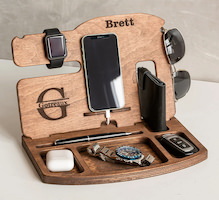 Average cost: From $49 and up for personalization
This handcrafted wood universal docking station is a practical gift for real estate investors. The valet can be used in the home or office and keeps all essentials neat and organized in one place. It's compatible with all cell phones and can also hold a watch, earbuds, sunglasses, wallet, keys, charger, and more. The shop offers custom engraving on the docking station to make this gift personable. Send in any name, logo, or picture, and they'll customize the personal valet for your gift recipient!
Average cost: Starts at $60
These custom-designed, hand-crafted bobbleheads are perfect for a fun-spirited gift that will crack a smile! You can choose themes from various professions, then send in a photo of someone, and they'll create a Bobblehead that looks just like them! While there are no real estate-themed bobbleheads, you'll find many options for general business people. For residential real estate investors, you may want to choose from a variety of casually dressed professionals, and for commercial real estate investors, you may want to choose from business professionals dressed in pantsuits or skirt suits; there's even one where the professional is holding blueprints.
(NOTE: All prices were listed at the time of this posting. Some prices and availabilities may change.)
OUR GIFT TO YOU – KNOWLEDGE IS POWER

Hopefully, we, the commercial real estate pros at The Robert Weiler Company, have made your shopping experience a little bit easier this year. With these twenty gift ideas, you will find the perfect gifts for property investors of all types.
While it's a blast to rip apart the wrapping paper and uncover this year's coolest gift, there are other ways to show your appreciation on a budget. Create a handmade card, cook a special dinner, and make time to watch a flick over some wine. After all, you'll have much more time on your hands now by following our gift guide!
If a family member, friend, or colleague has a commercial real estate question or requires a second opinion on a property appraisal (for sale or purchase), we invite you to slip them our phone number. Our gift to you is that the commercial real estate experts at The Robert Weiler Company are here to help; call us at 614-221-4286 – because sometimes knowledge is the greatest gift of all!